In the News
| | | | |
| --- | --- | --- | --- |
| Leonardo Academy develops alternative fuel locator app | | | |
In the News
 

Leonardo Academy announced its new alternative fuel locator mobile app, Cleaner and Greener® Fuels. The app is free of charge and provides a series of interactive maps that locate alternative fuel stations across the United States via a smartphone or mobile device. The app can be downloaded from both the iTunes App Store and the Google Play Store (the Android market) or the Cleaner and Greener® website.

   The Cleaner and Greener® Fuels app provides alternative fuel station information and routes for the following alternative fuel types: Electric, Compressed Natural Gas (CNG), Biodiesel, Liquefied Natural Gas (LNG), E85, Liquefied Petroleum Gas (LPG or Propane) and Hydrogen.

   The data was obtained from the Department of Energy's Alternative Fuels & Advanced Vehicles Data Center (AFDC). According to the AFDC, there were over 850.000 alternative fuel vehicles driven on U.S. roads in 2011, a number which will certainly increase in the near future as more people are seeking to reduce dependency on conventional fossil fuels. Cleaner and Greener® Fuels supply these drivers with directions to fuel stations across the country, as well as other helpful information such as access restrictions, blend types, payment methods accepted and web links, when available.

   To ensure the accuracy of its data, Cleaner and Greener® Fuels starts with fueling locations verified by the AFDC. Users and station owners are also encouraged to expand the database by submitting additional stations and details directly through the Cleaner and Greener® website.
| | | | |
| --- | --- | --- | --- |
| Leonardo Academy Launches Sustainability Project To Restore Prairie | | | |
In the News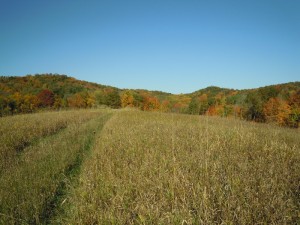 The Valley Ridge Preserve is a 145-acre parcel located in the non-glaciated part of southwestern Wisconsin, near Richland Center. Now Leonardo Academy, a company that offers sustainability services, wants to restore the prairie and make a pictorial record of the restoration project at the Preserve. And it's hoping to raise funds for the initiative through a Kickstarter project, through which anyone can lend their financial support.

The restoration will take four years to be completed. The period will cover the planting, growth and flowering of the prairie. But the project needs the funding in order to sprout. "We only get the pledged funds if we reach or exceed our funding target, so we are counting on people to make pledges to support the project and receive project pledge rewards," said Michael Arny, the Academy's president.

Prairies are part and parcel of American history and iconography. The term comes from the French word for meadow, since the first settlers did not have a specific word for this type of grassland. Before Europeans colonizers arrived in the 1880s, the ridges and valleys of this preserve were covered with a mix of prairie, oak savannah, sugar maple and elm woods. Now only 0.5 percent of the prairie is left. The Valley Ridge Preserve was permanently protected from development in 2003 by a conservation easement through the Driftless Area Land Conservancy.

"The Valley Ridge Preserve is a very special place. Additional support beyond our goal will enable us to plant more acres of prairie and plant a greater number of species," said Leonardo Academy's Sustainability and Emissions Services Manager, Barbara McCabe.

Besides their intrinsic value, conservationists in the Midwest are working to protect prairies to help save another icon that needs it in order to live: the Prairie Chicken. The majestic bird, which was ubiquitous across the American Midwest, is now threatened by loss of habitat to farmland. Efforts have been focused on the preservation of habitat for the bird, whose mating dance ritual is widely admired. There's an annual festival dedicated to the Prairie Chicken, which takes place in April in Cassoday, Kansas.

Please follow the link to visit the project's Kickstarter page.
Taken From:
Corporate Social Responsibility writer for Justmeans, Antonio Pasolini is a journalist based in Brazil who writes about alternative energy, green living and sustainability. He also edits Energyrefuge.com, a top web destination for news and comment on renewable energy and Elpis.org, a recycled paper bag/magazine distributed from health food stores in London, formerly his hometown for over a decade....
| | | | |
| --- | --- | --- | --- |
| Sustainable Business - Building A Sustainable Environment | | | |
In the News
Chicago Tribune 9/30/2010 -  http://tribads.chicagotribune.com/jump_pages/mediaplanet/092910/index.htm
Sustainability is on a Roll
Sustainability is on a roll and the competitive marketplace is a big driver. When we buy products or services, we are buying both the good and the bad associated with their entire life cycle. Stepping up and taking ownership of supply chain impacts, direct impacts and waste streams gives companies multiple paths for making positive sustainability improvements.  There are a few key areas we will address here: greening the supply chain, sustainable green buildings, energy efficiency and renewable energy.
Greening the Supply Chain
The best thing about greening your supply chain is that it provides one of the lowest cost opportunities for improving a company's sustainability. Currently large retail companies have launched programs that gather supply chain data and these companies are rapidly moving to implement green requirements for providers in the supply chain.  Green requirements may include recycling of byproducts, more efficient transportation, greener packaging, better product design and redesigning production systems to be more efficient.
The driver for implementing green requirements will emerge from IT innovations such as cloud computing that offer ways of harnessing data in ways that were not previously accessible. As a result, supply chain accountability will organically evolve from the old mainframe based infrastructure to an integrated green machine.  Once this gets rolling, greening of supply chains will become inevitable in the cloud-connected world. Each company and organization should be asking itself: "Are we ready?" and "Are we getting ready fast enough?"
Sustainable Green Buildings
As the green building market continues to grow, LEED® certification is becoming part of the expectation for Class A buildings. In the leasing market, more tenants are recognizing that the space they lease has direct impacts on their environmental footprint and health. Building tenants and occupants are starting to understand that LEED for New Construction certification shows a building was designed and built with green in mind. However, ongoing recertification under LEED for Existing Buildings Operations and Maintenance (LEED-EB: O&M) is needed to assure that green design and construction translates into green operations over the life of the building. LEED-EB: O&M addresses many important facets of green operations, such as energy and water efficiency, sustainable procurement, and waste reduction. Whether or not building owners attempt LEED certification, focusing on these four areas will ensure greener operations over the long term.
Energy Efficiency and Renewable Energy
We have heard about the goal of zero net energy buildings. Since building use consumes 40% of the total fossil energy in the US and European Union, energy efficiency, renewable energy and innovative design are key components of our sustainability and achieving the goal of zero net energy.  While programs like LEED and Energy Star push for more sustainable energy consumption, it is up to each individual to adapt their lifestyle to more efficient energy use and to demand renewable energy from the marketplace. In addition, the demand for minimizing greenhouse gas emissions through energy efficiency measures has led to over a 50 percent increase of renewable electricity generating capacity in 2009, and 24 states have enacted energy savings goals. 
Despite the programs driving these changes, the principle strategy in achieving a sustainable building and realizing the goal of zero net energy remains the same. Energy conservation is the most critical component for both new and existing buildings in maximizing the investment in renewable energy and achieving a sustainable future.
<< Start < Prev 1

2

3 4 5 6 Next > End >>


JPAGE_CURRENT_OF_TOTAL